Survey Software
Survtapp is the most intuitive Online Survey Software & Offline Survey App for iOS & Android. Use it to Collect Customer Feedback, for Offline Lead Capturing, engage with Employees or conduct Market Research.
CREATE AN ACCOUNT. FREE FOREVER. NO CREDIT CARD REQUIRED.
About Survtapp
With a powerful survey questions builder and comprehensive platform to record online responses from the web or offline responses on iOS or Android, Survtapp is the ideal Survey Software from small business to enterprise users. works from small can be used numerous applications including Customer Experience Management, Offline Lead Capturing, Employee Engagement and Market Research. Our robust Data Collection App works even without an internet connection adds immense possibilities to your advantage.

Intuitive Survey Software

Offline Data Collection App


Reports with Actionable Insights

Easy Lead Collection & Scoring

GDPR & Privacy Compliant Platform

Trusted & Secure Platform

Automatic Trigger Notifications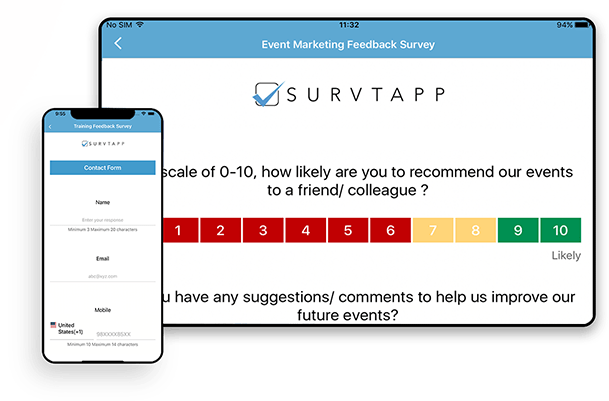 Create Surveys
Intuitive Survey Question Builder with Infinite Survey Design Possibilities

Collect Responses
Collect Responses from all Surveys on Web, Android and iOS Devices

Analyze Results
View Detailed Individual Responses as well as Comprehensive Survey Results

Collate Leads
Collect Leads & Integrate enriched data with other platforms
Get Started Now
Create an Account. Free Forever. No Credit Card Required.
Survtapp Survey App Features

Intuitive Survey App
Easy setup & quick deployment Survey App ideal for any kind of Online & Offline Data Collection

20+ Question Types
Use from over 20 different question types with infinite possibilities to create any kind of survey.

Survey Personalization & Branding
Add a Welcome Screen, Design Elements, Customized Completion Message & more to create a unique experience for your survey respondents

Survey Kiosk Mode
Automate Data Collection on Mobile Devices using the Offline & Secure Kiosk Mode on the Survtapp Android and iOS App

Survey Logic & Programming
Create Survey Skip Logic and Chained Logic with our intuitive UI to collect accurate and desired survey results

CSAT, NPS® & CES Built In
Use industry standard CSAT, Net Promoter Score® and Customer Experience Score Analysis Questions to collect actionable data for your organization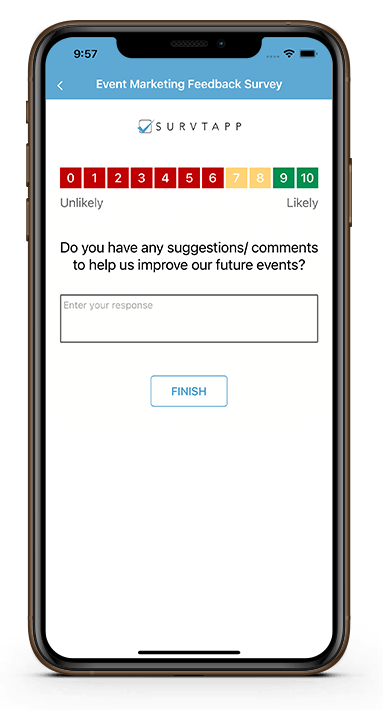 Response Geolocation
Get near-accurate response geolocation data for each individual response collected from a mobile device

Survey Reports & Analysis
Get Real Time Comprehensive Reports in plain text and visual format to visualize survey results instantly

Customizable Contact Fields
Use default Contact Form Fields or create your own with easy preset validation options to ensure high quality data collection across platforms

Works Offline
Survtapp Android & iOS Apps work even without an internet connection and seamlessly sync data collected to your Survtapp account whenever you get connected online

Audio Responses
Collect Audio Responses in Surveys to add a real world dimension to your Survey data. Download & Listen to audio responses to gauge more than written text

Signature Capture
Empower Mobile Survey Respondents to authenticate the data submitted with touchscreen enabled signature capturing on Survtapp Android and iOS apps
Popular Use Cases
Collect Customer Feedback for any industry via Web or Mobile App – capture valudae customer happiness score along with identification to grow and enrich your customer profile data. Read More
Create sharp surveys to collect insightful data from existing and new employees to learn more about employee satisfaction and optimize the internal processes of your organization.
Conduct objective, short and detailed market surveys up to 500 questions including all question types, survey designing and logic possibilities to truly create insightful data for your customers. Read More
Capture Prospect Leads Offline and also add a quick remark (Lead Scoring) without the need of an internet connection and peace of mind for data safety in your mobile device. Read More
Automate Customer Feedback and Data collection by using the Survtapp Kiosk Mode combined with our Offline Survey App functionality. Add a Branded Welcome Screen and Customise the Survey Completion Message and give your customers a neat brand experience. Read More
Create Short Polls and send out Web Links, Open App invites or Mobile Responses to collect data instantly represented in graphs to help you make informed decisions.
Create Know Your Customer Forms with our Image (Camera) Capture, Signature Capture and unlimited Custom Contact Fields – get a data powerhouse in your hands with our Offline Survey App for Android and iOS. All data resides safely in the device until connected to sync all the responses to your Survtapp account.
Create quick surveys with Single or Multiple Choice Answer Preset Values to conduct Inspections and Audits without the need for paper forms and data entry woos. Simply sync and visualize your offline data collected, instantly in your Survtapp web account. Read More