Survey Software features to help you collect better data, smarter!
Survtapp is built with all the features required to make collecting and comprehending data very simple. Collect responses on the app or on the web with separate questionnaires for every audience group to best capture the required data

Create Surveys
Create custom surveys to capture any kind of data for any purpose

Collect Responses
Collect &l Unify Responses from Mobile Devices and Online in one account

Reports
Analyse & Visualise your data collected with comprehensive & individual responses

Mobile App
A power house of features, use the Survtapp Mobile App to add enterprise mobility to your business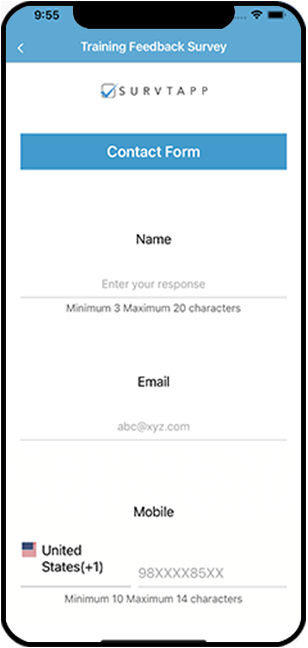 Create Surveys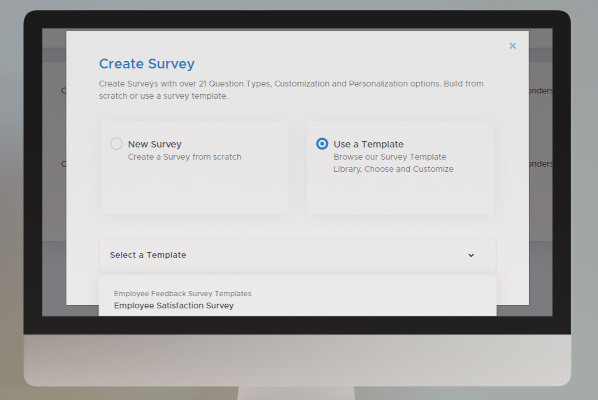 20+ Question Types
Choose from a wide variety of Text (One/Multi Line), Check Boxes, Matrix, Audio, Signature, etc and create infinite survey question possibilities. Learn more

Customizable Forms
Use default or add Custom fields with preset validation (text, alphanumeric, numeric, email address)

Unlimited Surveys
Create unlimited surveys with unique questions, survey design elements and personalization settings

Skip & Chained Logic
Add Survey Intelligence with our built-in Chained Logic and Skip Logic to get precise responses with granular data policies.

200+ Survey Templates
Use readymade Survey Templates across categories and use cases and modify in minimum time to create blazing fast surveys

Survey Agent Assignment
Assign specific or all surveys to device agents and get granular control on Data Collection strategy

UI Branding
Add your Company Logo and choose a matching theme to align Survtapp Survey App with your brand guidelines

Multilingual
Create Surveys in your preferred language with character support for 18 languages including English, Spanish, French, German, Portuguese, Italian and more

Survey Personalization
Add a Custom Welcome Screen with Images, Text or Both before a Survey begins

Custom Completion Message
Display a Customized 'Thank You', 'Promo Code', 'Website'or anything else you feel Survey Respondents would appreciate after completing a survey on the Web or Survey App

Preset Question Validations
Get control of survey data by using our preset validation options including Alphanumeric, Numeric, Valid Email Address and Character Count control

Survey Elements
Enhance your Survey presentation with Sections, Dividers, Page Breaks, Disclaimers, Welcome Screens and Contact Forms

Custom Survey URL
Use our default Survey URL structure or create a vanity URL – easy to remember & share. Also adds to your survey branding

Survey SEO
Add a unique Survey Meta Description to help search engines and social networks identify what your survey is about

Survey Schedule
Create a Survey Start and Stop Schedule to ensure responses are only recorded with a certain Date & Time frame
Collect Responses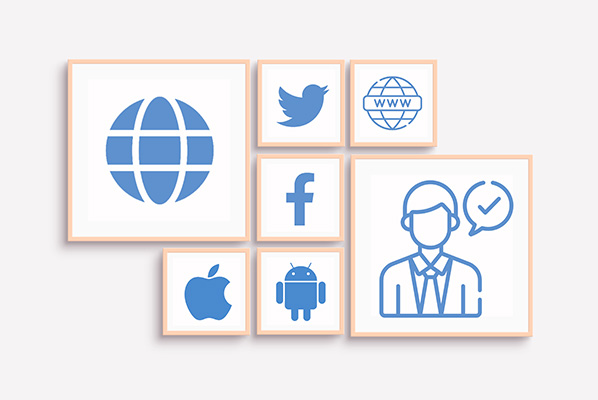 Web Link Surveys
Use your Survey Web Link to collect responses from desktop/mobile browsers, share on social networks or use Embed Code in your website

Mobile App Surveys
Use the Survtapp Mobile Survey App for iPad, Android or Amazon Kindle to collect responses online or offline

Works Offline
Continue Data Collection even without internet available in Survtapp Offline Survey Apps for iOS and Android

Leads & Contacts
Collect unique leads (email address based) contacts neatly pulled out from all your survey contact forms to the Contacts section in your account

Lead Scoring
Add a Lead Rating & Note in your Web Account or Survey Mobile App (before sync). It helps making notes for each lead super convenient

Embed Survey HTML Code
Copy the ready HTML code and paste in your existing website/blog and start collecting responses for your survey

NPS® Survey App
Use the Net Promoter Score® Question Type to gather insights about your brand and visualize actionable data in a single dashboard

Survey Geolocation
Get GPS location of each survey collected from the Survtapp Mobile Survey Apps

Unlimited Responses
Our survey platform is able to handle large amounts of data processing. Select a plan which suits your needs and we'll handle the rest

Dark Theme
Choose from Light (White) or Dark (Black) theme for your Survtapp Web Link and even the Survtapp Mobile Apps for iPhone, iPad and Android

Anonymous Surveys
Customize your survey to create anonymous surveys for web and mobile survey app (see Open App)

Survey Scheduling
Automatic Survey Start and Stop Management using the survey pre-defined schedule feature to only gather responses within a set timeframe
Reports & Analytics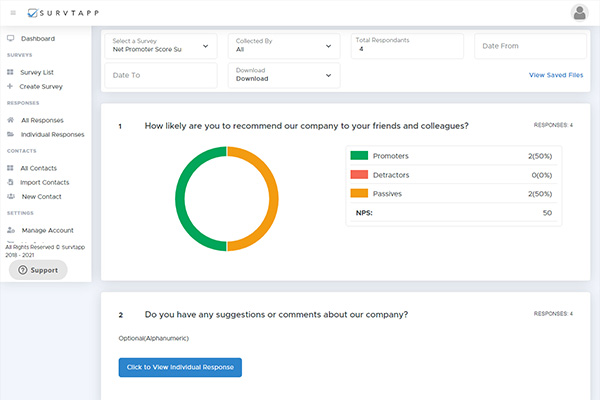 Real Time Reports
View data across platforms instantly after submissions from Web/Mobile Survey App and view/download reports from your account

Individual Responses
View a single survey response data including objective and subjective data along with contact form data, time taken and response geolocation

Combined (All) Responses
View instantly collated data from all surveys and received from multiple sources in user friendly graphs and pie charts along with total response counts and more

Export Data
Export Individual or All Responses in PDF, CSV or ZIP format including text, media and contact form data

Multiple Data Filters
Apply quick filters to analyze and export specific data within surveys

Survey Response Time
View time taken for an entire survey and each question (see configuration article) by a survey respondent to get more insights
Survey Software Tools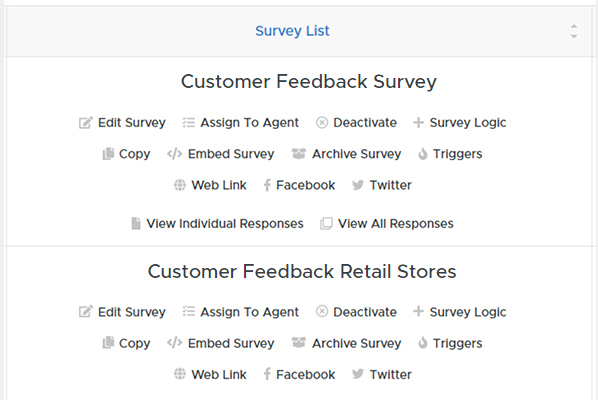 Automatic Triggers
Customize and automate email notifications sent automatically to yourself or the Survey Respondent. Learn More

Agent & Device Management
Use Survtapp Survey App on unlimited mobile devices (Android/iPad/iPhone) each with unique login management

GDPR Compliance
Survtapp is fully GDPR Compliant for Web & Mobile Data Collection and has built-in policy customization options

24x5 Customer Service
Available Mon-Fri 9am-5pm EST our friendly and knowledgeable Customer Service team is always willing to help. Simply email support@survtapp.com

DIY Help Desk
Browse our vast knowledgebase of articles, FAQs and media to find answers for any simple or complex issue: https://survtapp.zendesk.com

API Integration
Integrate our REST API with your system or platform and automate data collection from Survtapp diretly to your system. Learn more
Survey App Features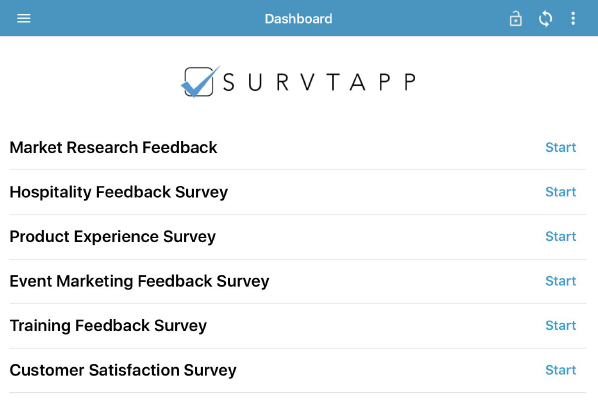 Works Offline
Collect Survey Data even without internet on Android or iOS and simply sync responses whenever you get connected next

Survey Data Preview
Preview survey responses in the Survtapp survey app even before synchronizing responses with your web account

Lead Scoring
Add a Lead Rating and Notes for each unique lead collected in the Survey Mobile App to help you organize lead data even better

Data Collection Mode
'Default' Mode returns the survey respondent back to the dashboard. 'Ultra-Fast' mode restarts the survey immediately after completion

Kiosk Mode
Automate data collection with automatic survey loop functionality in full screen and secure password protection to ensure the user does not exit the survey screen

Auto Sync
Enables all mobile survey responses collected are automatically uploaded to your web account in fixed time intervals

Survey App Branding
Personalize Survtapp Mobile Survey App with your logo, Survey Welcome Screens and Custom Completion Message to create

App Themes
Choose a color theme to align the respondent's experience with your logo and brand guidelines

Data Recovery
With app level data recovery, Survtapp stores response data even if you accidentally logged out

Survey Time Recording
Survtapp Mobile Survey App is able to record time taken to answer an entire survey as well as time taken to answer each question

Device Management
With multiple agent management, get device level control on survey deployment, collection and login recovery from the web account
Multilingual UI
Customize the Survtapp Web Interface in 18 languages including English, Spanish, French, German, Italian, Portuguese and more

Demo Surveys
View ready Demo Surveys in the Mobile Survey App to view questions and user interface

Open App
Collect surveys with unique Survey IDs. Anyone can download the Survtapp Survey App and answer a survey without the need for logging in

White Label Survey App
Get a 100% white labelled survey app solution for your brand or event. Learn More
The most versatile Survey Software
Any kind of Data Collection including Customer Feedback, Market Research, Lead Capturing and more.

Customer Experience

Market Research

Offline Lead Capturing

Mobile Kiosks
Get Started Now
Create an Account. Free Forever. No Credit Card Required.